This week I'm attacking a much-beloved classic; a book that has been challenged many, many times in its history. It has had to go up against many a school board and pearl-clutching soccer moms who felt children should not be made to feel uncomfortable and exposure to adversity should be kept to a minimum. Gauntlets have been thrown, yet To Kill a Mockingbird has come out on top time and time again.
And for good reason. It's a good book.
(After my Great Gatsby post a good friend of mine called me to verify that I didn't, in fact, hate Gatsby. She was afraid our friendship had all been for naught and that this meant the end. So, I guess I'll put up front that I love To Kill a Mockingbird. I have very fond memories of reading about it. In fact, I posted about it once during banned books week. You can find that post here.)
However, many of the reasons I want to replace Gatsby hold true for To Kill a Mockingbird. It's antiquated, it's from a perspective that doesn't totally represent modern America, and while it still has a revered place in literature, it may not be the best pick for a 9th grade classroom anymore.
I will say, Mockingbird has some things going for it that Gatsby was totally lacking. For one, it was written by a woman, which is a rarity amongst books taught in public school English programs. In Louisiana–at least when it comes to the middle school curriculum–women comprise between 10-15% of the voices students are exposed to. According to The Ultimate AP English Reading List only 2 of the top 10 most frequently referenced books on AP Exams are books by women (neither of these books are To Kill a Mocking Bird, of course.)
Mockingbird is also from the perspective of a child, which is something more students can relate to, as they have, in fact, all been children by the time they have made it to 9th grade. Most of the books that students are exposed to in high school are narrated by adults; they are given adult understandings and observations. Teenagers who have not had to evaluate the world as adults are being forced to think like adults. It's sometimes jarring as a reader. But Scout's childlike voice and understanding of the events around her are much more relatable for the vast majority of students.
If I were to rank required reading books I'm throwing out to be replaced with more timely and diverse books, To Kill a Mockingbird would definitely rank higher on that list than The Great Gatsby. That's all I'm trying to say.
Gauntlets have been thrown, yet To Kill a Mockingbird has come out on top time and time again.
The History of To Kill A Mockingbird
Nelle Harper Lee was born in 1926 and grew up in Monroeville, Alabama (where she because close friends with Truman Capote.) She was the youngest of four children, and her father was a lawyer who also served in the Alabama State Legislature. Though he spent much of his career as a title lawyer, A.C. Lee (Harper Lee's father) once defended two black men who were accused of murdering a white storekeeper. His clients lost this case. After this case, Lee never took another criminal case.
This event would have a large impact on Nelle's life (as is evident in To Kill a Mockingbird.) Lee has said that To Kill a Mockingbird may be inspired by autobiographical elements, but it is largely fiction. She has always maintained that a writer "should write about what he knows and write truthfully." It is true that Lee drew inspiration from important people in her childhood, which is true for many writers. The similarities between her father and Atticus Finch are pretty clear, though A.C. Lee was much more supportive of racial segregation than his literary counterpart, according to Charles Shield's Mockingbird: A Portrait of Harper Lee (2006). Harper Lee's mother died when she was 25, which made its way to a much younger Scout. Lee's brother Edwin even served as the inspiration for Jem. But borrowing character traits does not an autobiography make.
I only point this out because of my own experience with To Kill a Mockingbird. We read this in the 10th grade with a teacher who I'm convinced did not like me (to be fair, I made it very difficult to like me in high school.) But I also questioned how familiar she was with the book at the time we were learning it. I knew that she knew the curriculum, and there was no denying that she had taught the book several times. But even now, as an experienced teacher, I question how well she contextualized this book for herself and her students. Because she led us to believe that this book was basically Lee's autobiography, but with the names changed. It was presented to me as if this was some kind of memoir that was so wild, names had to be changed to protect the innocent and the guilty.
Synopsis of To Kill a Mockingbird
Narrated by Jean Louise Finch (Scout), a six year old living during the Great Depression in the fictional town of Maycomb, Alabam, To Kill A Mockingbird tells the story of Scout and her brother Jeremy–known as Jem–and her widowed father, Atticus, an attorney. Jem and Scount befriend a boy named Dill who comes to visit his aunt in Maycomb each summer (this is the character loosely inspired by Truman Capote.) Scout, Jem, and Dill are intrigued and terrified by their neighbor, Arthur "Boo" Radley," whom the adults are hesitant to even talk about even though many of them have not seen him for years. The children pass time by making up these crazy ideas about Boo's appearance and dreaming up reasons for his reclusiveness, and they dream up ways to make him leave their house. And two summers into hanging out with Dill, Scout and Jem find that someone has been leaving them small gifts in a tree outside of Boo Radley's house. Though Boo seems to offer them gestures of kindness, they are disappointed that he never appears in person.
Alongside this the judge appoints Atticus to defend Tom Robinson, a black man who has been accused of raping a young white woman named Mayella Ewell. Despite the disapproval of Maycomb's residents, Atticus agrees to defend Tom to the best of his ability. Other children because making fun of Scout and Jem because of Atticus, calling them all kinds of racially-charged slurs. One night, Atticus stares down a group of men intent on lynching Tom. He tries to talk reason into them, but it is Scout who breaks up the crowd, by recognizing the father of a classmate and talking to him. This causes the crowd to disperse.
This leads into the trial, which Atticus has asked Scout and Jem not to attend. The trial is packed shoulder-to-shoulder with no room for Scout and Jem when they show up, but they are invited to sit and watch from the colored balcony, which they do. Atticus is able to establish that Mayella and Bob Ewell have been lying, and it is revealed that Mayella made sexual advances toward Tom, which resulted in her being beaten by her father. The townspeople don't take kindly to this lying and begin to call the Ewell's "white trash" but none of this stops the judge from choosing hate and convicting Tom of rape, regardless. Atticus is hopeful that he can get the conviction overturned, but Tom is shot and killed while trying to escape from prison.
Despite Tom's conviction, Bob Ewell is humiliated by the events of the trial. As Atticus explains, he "destroyed his last shred of credibility at that trial." So Ewell vows vengeance against Atticus, going so far as to spit in Atticus's face, trying to break into the judge's house, and even harassing Tom Robinson's widow. Finally he attacks Jem and Scout while they are walking home one night after the school Halloween pageant. Jem's arm is broken in the struggle, but a mysterious man comes to Jem and Scout's rescue. The stranger carries Jem home and Scout realizes that it's Boo Radley.
The Sheriff soon arrives and discovers that Ewell has died from injuries sustained from a knife. Atticus first thinks that Jem is responsible, but the Sheriff is sure it was Boo's fault. To protect Boo, the Sheriff decides to report that Ewell injured himself with his own knife in the attack. Boo asks Scout to walk him home, where she says goodbye and never sees him again. While standing on the Boo Radley's porch, Scout imagines life from Boo's perspective.
It really is a lovely book.
Commonly Taught Themes in To Kill A Mockingbird
Good and Evil
Social Inequality
Racism and Prejudice
Lies, Truth, and Reliability
These are ideal themes to discuss with today's readers. And unlike Gatsby, I'm not even saying these themes are outdated or have changed all that much in the time since Mockingbird was released. I think it is always important to discuss good and evil with students. I think it is always important to teach them about social inequality and racism, and especially to teach about what racism looks like today. Because it does present very differently in today's society than even what my parents think of as "Racism" with a capital R and a very clearly define set of actions that prove racism.
And there is nothing I love more than teaching students about the reliability of a narrator and the power of the lies and truths that are told throughout a narrative. Because when it comes down to it, the only information a reader has is what they're being told by the narrator. The narrator holds all the power. And it makes for an interesting lesson anytime I get to teach it.
So what book would I select to replace this book and still cover these themes? The best selection that comes immediately to mind is Monster by Walter Dean Myers.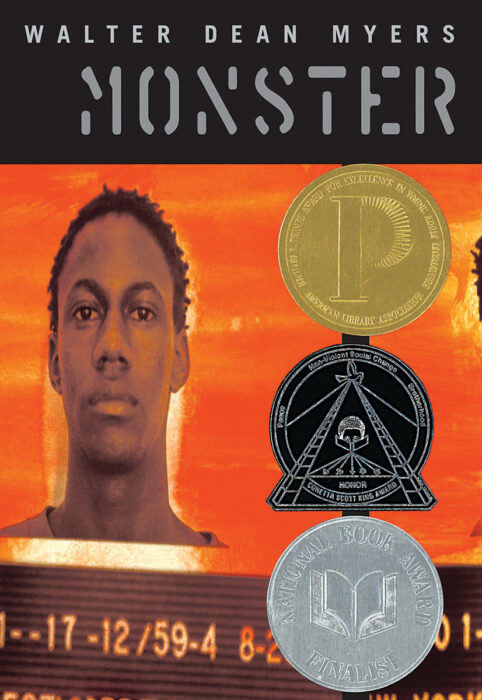 First of all, if you're not familiar with this book, run, don't walk to your favorite bookstore and buy it. Seriously. I'll wait. You can finish reading this post later. It'll still be here.
Written as a screenplay, Monster tells the story of Steve Harmon, a 17-year-old boy awaiting trial for murder. He explains early on that only he and one other of the four accused are on trial–Richard "Bobo" Evans and Osvaldo Cruz have taken a plea bargain. This book is beautiful and poignant, flashing between the trial–in which the attorneys are at each other's throats and the district attorney is calling Steve a "monster"–to his jail cell, to holding rooms where the attorneys are buddies joking around. There are interesting juxtapositions, side-by-side comparisons of Steve's personal hell and the attorneys clearly seeing this as nothing more than a job.
The reader sees witnesses called to the stand and the attorneys chip away at their testimony, finding chinks in the armor, weaknesses in the story, so that nobody seems credible or reliable. And Steve must just sit back and watch his life literally be in somebody else's hands.
I don't want to spoil the ending for you if you haven't read it, because it's captivating and amazingly written. But I will say that at no point do you as the reader ever get a clear cut answer as to whether or not Steve actually participated in this crime. As a reader, you are never given enough information to know exactly how things played out. And I find that writing brilliant and interesting and complex.
Steve is told early on not to write anything in the script that could be used as evidence, and he takes it to heart. So he gives the reader nothing to work with. It's phenomenal writing. And also a little frustrating. But it all leads to that thing that I love teaching about unreliable narrator. In To Kill a Mockingbird, we see the world through Scout's eyes and we get a childlike understanding of things going on. That's its own kind of unreliability. But to see through the eyes of someone who can't give you any information is so fascinating.
This book deals heavily with race, identity, peer pressure, and the dehumanization of people on trial. It deals with the treatment of people of color in the criminal justice system. And it especially hits on unreliable narrator, which is an important literary device to teach, and allows for wonderful class discussion.
It's also important to note that Walter Dean Myers is a black writer, and thus offers a perspective students are so rarely exposed to. Myers is writing from a place of understanding that I will never be able to, that John Green would never be able to, and even that Harper Lee would never be able to. It's not that Lee's voice is unimportant in history. It's just that we're exposed to hundreds of voices and perspectives like hers.
I have taught this book to 8th graders, and I can say from experience that it's engaging and exciting for the students. The fact that it's written as a screenplay is exciting and new to them, and requires a new set of reading and decoding skills they don't commonly use. Plus, it's a lot of fun to let one student be the "director" and cast the parts.
All this to say, keep To Kill a Mockingbird on your shelf and celebrate its history and the amazing story it tells. But maybe welcome something new into your curriculum and celebrate a new voice that may have the ability to reach students in new and exciting ways.
Yours,
The Plucky Reader